You've had a great summer vacation and enjoyed what your "party time". There were picnics in the park, back yard barbecues, and alcohol. Your intentions of healthy eating have gone down the tubes. But! All is not lost. Here's the scoop on alcohol. Information about alcohol...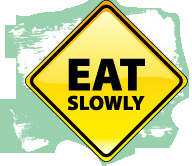 More people than not tend to eat very fast. I typically finished eating my meal within 5 minutes.  I don't even think about it most of the time but it seems I subconsciously want that next bite before I am done chewing what I have...
Q. What are the best foods to make me feel full the longest? A. When it comes to satiety factor, or food making you feel full, it's best to choose high-volume low-calorie foods. Foods high in fibre and water are a great example of this. Weight loss and maintenance...