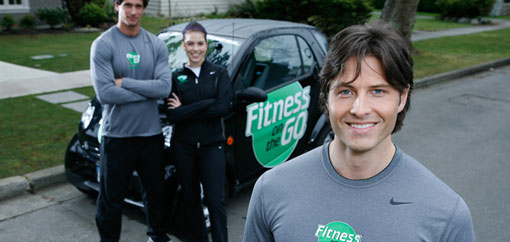 Private, in-home personal trainers from Fitness on the Go not only make it possible to reach your weight loss and fitness goals in your own home, but we also make it convenient. Our knowledgeable in-home personal trainers work throughout Wichita, Kansas and beyond. In-home personal training sessions put an end to fighting traffic to get to the gym. They also eliminate the stress and awkwardness of working out in public with strangers and the annoyance of having to train on someone else's schedule. Instead, our personal trainers come right to your home on your schedule. It is our goal to make fitness more convenient.
For a Free In-Home Consultation, Call us at 1-888-808-2348 or fill out the below form:
Wichita Personal Trainer –
Our Private, In-Home Personal Training Program
You can easily schedule workouts with our local personal trainers in Wichita, Kansas. We don't make you conform to our set schedule. Instead, we give your needs and your schedule priority. During your personal training sessions, we'll focus on your health and weight loss goals and take steps to ensure that you're on the right path to reaching them. To arrange for a free in-home consultation, just call 1-888-808-2348.
In your free consultation, you'll meet one of our certified personal trainers and speak about your current fitness level, your weight loss and fitness goals and describe your expectations. The consultation is also a great time to ask any questions about working with an Wichita personal trainer. We always strive to make you feel comfortable with our home personal trainers in Wichita, CA. Please call us today: 1-888-808-2348.