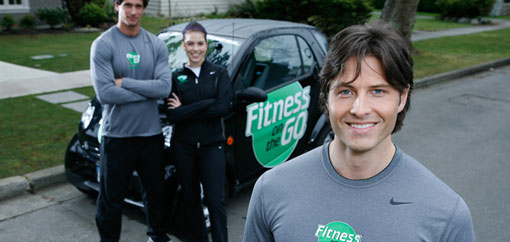 Fitness on the Go offers Dallas personal trainers. Our certified Dallas personal trainers will help you reach your fitness goals from your own home. Rather than head to a gym, take advantage of our in-home personal training sessions. Fitness on the Go understands that getting to the gym may not fit into your schedule. We know that working out in a room of strangers doesn't suit everyone's comfort level. That's why we offer personal fitness trainers who come directly to your home. We make it comfortable and convenient to achieve your weight loss and fitness goals.
To Book Your Free In-Home Consultation, Call 1-888-808-2348 or fill out the below form:
Dallas Personal Trainer –
In-Home Personal Training Program
Our in-home personal trainers are located right in Dallas, so they're close to your home. This makes it simple to schedule personal training sessions according to your schedule. We work with you and do what it takes to help you achieve your fitness goals. Call us today for a free in-home consultation: 1-888-808-2348.
During the consultation, you'll meet with one of our certified personal trainers who will speak with you in order to learn more about the fitness and weight loss goals you have in mind. It is our goal to make sure that you feel comfortable working with one of our certified Dallas personal trainers. Take the first step to reaching your fitness and weight loss goals and give us a call today: 1-888-808-2348.