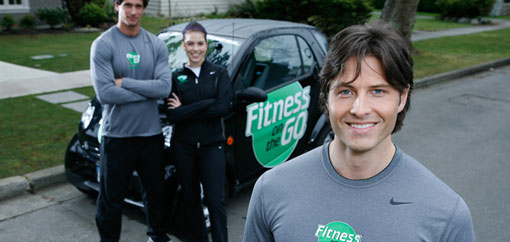 We make it possible to get in shape in your own home through our personal trainers in Irvine, California. Fitness on the Go is dedicated to helping people live happy and healthy lifestyles. That's why we offer in-home personal trainers that come right to your home. We know that it's tough to work out with strangers on someone else's schedule and in some other location. We understand the pain of fighting traffic on the way to the gym. Our home personal training sessions eliminate these hassles and inconveniences, making it as comfortable as possible to reach your health and wellness goals. When you work with one of our our Irvine personal trainers, you're working with an individual who is dedicated to your needs and helping you reach your goals on your schedule. You can trust our personal trainers with your health and wellness.
Book a Free In-Home Consultation by Calling 1-888-808-2348 or filling out the below form:
Irvine Personal Trainer –
Private In-Home Personal Training Program
Our local personal trainers in Irvine, California make booking personal training sessions simple. Our services make it easy to train at a place and time where you feel comfortable: your own home! For more information or to book a free in-home consultation, please call us at 1-888-808-2348.
You'll sit down with one of our certified personal trainers to discuss your health and weight loss goals. You'll also discuss your expectations for working with a home personal trainer in Irvine, CA. The consultation is also an opportunity to ask any questions you have about our Irvine personal trainer services. To find out more, call us today: 1-888-808-2348.