San Francisco Personal Trainer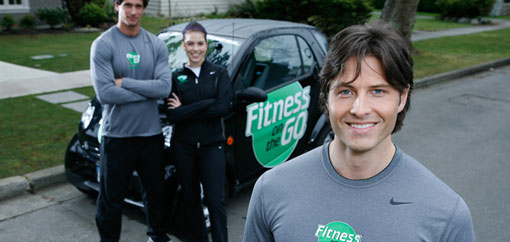 Fitness on the Go is your best choice for in-home personal trainers in San Francisco, California. Our private, in-home personal trainers come right to your home on your schedule, allowing you to get in shape without having to fight traffic and deal with the hassle of a gym. Our certified San Francisco personal trainers work with you and help you achieve your health and weight loss goals. We make it easy to schedule home personal training sessions when you're available, rather than making you stick to someone else's schedule. Working with our in-home personal trainers is the most convenient and effective way to get in shape.
Please call 1-888-808-2348 or fill out the below form to book a Free In-Home Consultation:
San Francisco Personal Trainer –
Private In-Home Personal Training Program
Our local personal trainers in San Francisco, California learn about their clients and design a plan that meets their unique needs. We want to find out as much as possible about your goals, expectations and fitness level in order to provide you with the best possible workout. To speak with a trainer, just book a free in-home consultation by calling 1-888-808-2348 today!
You'll sit with one of our certified personal trainers, discuss your fitness goals and ask any questions you may have. A San Francisco personal trainer is there to support you and ensure that you feel comfortable the entire time. If you have any questions about home personal trainers in San Francisco, CA or to book a consultation, please contact us at 1-888-808-2348.