Brentwood Personal Trainer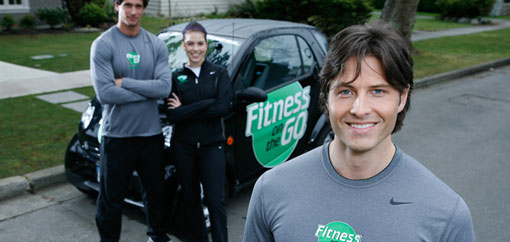 Get in shape in your very own home with our Brentwood in-home personal trainers. We make exercise more convenient and comfortable than ever before. You won't have to worry about fighting traffic on the way to the gym and working out in a crowded group of strangers. Instead, you can exercise in the comfort and privacy of your home with an in-home personal trainer from Fitness on the Go. We understand that reaching your weight loss and fitness goals doesn't have to be stressful and annoying. Working with a Brentwood personal trainer makes it easier than ever to get in shape.
Complete the below form or call 1-888-808-2348 to book a Free In-Home Consultation:
Brentwood Personal Trainer –
Private In-Home Personal Training Program
One of the main ways that an in-home personal trainer makes exercise easier is by working on your schedule. You don't have to deal with getting to the gym when they want you there in order to take a class. We come to your home on your schedule when you're available. We want to help you reach your weight loss, health and fitness goals. If you're interested in finding out more or you want to book a free in-home consultation, please call us today at 1-888-808-2348.
You'll meet with a certified Brentwood personal trainer in your own home and discuss your goals. The trainer will explain more about what he or she does and work to set your expectations for training. We want you to be 100% comfortable in working with a Brentwood personal trainer. You'll also be able to ask whatever questions you may have about personal training or any of our services. For more information, please call 1-888-808-2348.