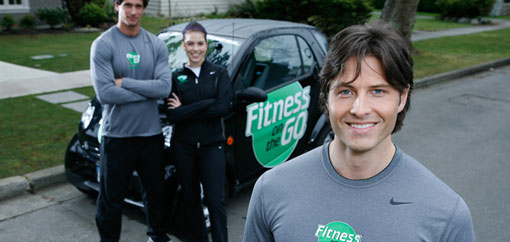 We're Fitness on the Go. We offer in-home personal trainers in Gilbert, Arizona. If you're looking for private in-home personal trainers, you've come to the right place! Our certified Gilbert personal trainers can work with you to help you reach your health and fitness goals. Through home personal training sessions and a focus on your unique needs and goals, you'll work to get in shape. In-home personal trainers create personal training plans that are based on your needs and fitness level.
Call 1-888-808-2348 or fill out the below form to book a Free In-Home Consultation:
Gilbert Personal Trainer –
Private In-Home Personal Training Program
We know that it can be tough to get to the gym, which is why Fitness on the Go has personal trainers that come right to your home! We make it more convenient and comfortable to work out.
Our local personal trainers in Gilbert, Arizona strive to make exercise more convenient. We'll schedule all personal training sessions when you're available and come right to your home, so you don't have to fight traffic or struggle to find parking. If you're interested in a free in-home consultation or you're looking for additional information, please don't hesitate to call us at 1-888-808-2348.
During the in-home consultation, one of our certified personal trainers will sit with you and find out more information about your fitness level, your goals and your expectations. He or she will provide you with the information you need regarding home personal trainers in Gilbert, AZ and answer any questions that you may have. When you work with a Gilbert personal trainer, you're working with someone who is completely dedicated to your needs and goals. To find out more or to book a consultation, please contact us: 1-888-808-2348.