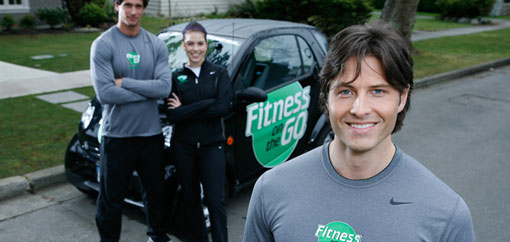 Fitness on the Go specializes in private, in-home personal trainers in Aurora, Illinois and beyond. It is our goal to make living a healthy lifestyle and reaching your fitness goals as convenient as possible. When you train with one of our certified Aurora personal trainers, you are working with someone who is completely dedicated to your health and fitness goals. You can trust our in-home personal trainers.
Call us at 1-888-808-2348 or fill out the below form to arrange for a Free In-Home Consultation:
Aurora Personal Trainer –
Private, In-Home Personal Training Program
At Fitness on the Go, we understand that it's not always easy, convenient or comfortable to work out at the gym. That's why we offer convenient in-home personal training sessions that take place on your schedule with a personal trainer who is dedicated to your success.
Our personal trainers in Aurora, Illinois come to your home on your schedule and help you meet your unique fitness goals. We design a custom plan that is structured for your personal fitness level and health goals. If you're interested in finding out more information or if you'd like to arrange for a free in-home consultation, give us a call at 1-888-808-2348.
You'll meet with one of our certified personal trainers during the consultation. He or she will work to learn about your health and wellness goals and expectations. You'll also be able to ask any questions that you have about our home personal trainers in Aurora, Illinois. If you'd like to find out more about training with an Aurora personal trainer, set up a consultation by calling 1-888-808-2348 today.