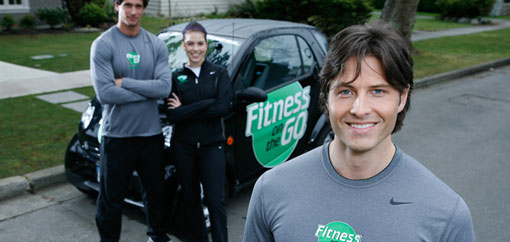 We offer private, in-home personal trainers who come right to your home, giving you a convenient, comfortable and effective way to reach your health and weight loss goals! At Fitness on the Go, our personal trainers are focused on your needs. We design a plan that is based upon your current fitness level and your expectations, helping you achieve your goals. Our Chicago personal trainers understand that it can often be difficult or inconvenient to work out at a gym. Between fighting traffic, conforming to the gym's schedule and working out with strangers, it's often easier to just stay home. Now, with in-home personal trainers, you can stay home and still get a great workout.
Book a Free In-Home Consultation by Calling 1-888-808-2348 or by filling out the below form:
Chicago Personal Trainer –
Private In-Home Personal Training Program
We want to help you live a healthier lifestyle, so we make doing so as convenient as possible!
This is why our local personal trainers in Chicago, Illinois come to your home on your schedule. We make it easy to schedule a personal trainer, so you don't have to worry about getting to the gym at a time that doesn't really work for you. Instead, you can get in shape when you have the time and you can do it in your own home, where you feel the most comfortable. If you're interested and you'd like to speak to a member of our team, or if you'd like to book a free in-home consultation, please contact us today at 1-888-808-2348.
During the consultation, you'll meet with one of our certified personal trainers. You'll discuss your expectations, your fitness level and your health and fitness goals. You'll be able to ask whatever questions you have about our team or about working out with a Chicago personal trainer. One of the main goals of the consultation is to ensure that you're completely comfortable in training with a home personal trainer in Chicago, IL. For more information, please call us at 1-888-808-2348.