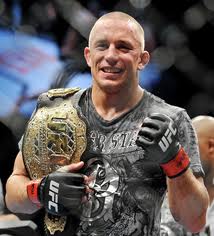 Train Like GSP
George St-Pierre, the young Canadian UFC champion and arguably one of the best "pound for pound" fighters in the world owes much of his success to his discipline, his physical training, and his trainer!
Martial Arts, especially kick boxing and boxing can be an exciting and effective way to shed pounds or tone up, especially in the arms and abs/core. Â Here are some training workouts that you may find St-Pierre's doing:
(repeat cialis 8 cpr riv0mg each mini-circuit for 3 sets)
CHEST CIRCUIT
1) Bench Press x 10
2) Alternating Leg Push-ups on Exercise Ball x 10
3) Incline Dumbbell Flys x 10
4) Bent over Bar Row x 10
LEGS CIRCUIT
1) Bar Squat to chair x 10
2) Dumbbell Lunges forward and backward
3) One-leg Hamstring Ball Curls
4) Jump Squats
Remember – It's always Generic Levitra Super Active+ Online Pharmacy best to train with a partner or personal trainer!